Liga Kita has been promoting Malaysia football since 2018 and we are the earliest fantasy apps provider in Malaysia.
With Liga Kita you can win great prizes; Club Merchandise, Gaming console, Drone, and much more!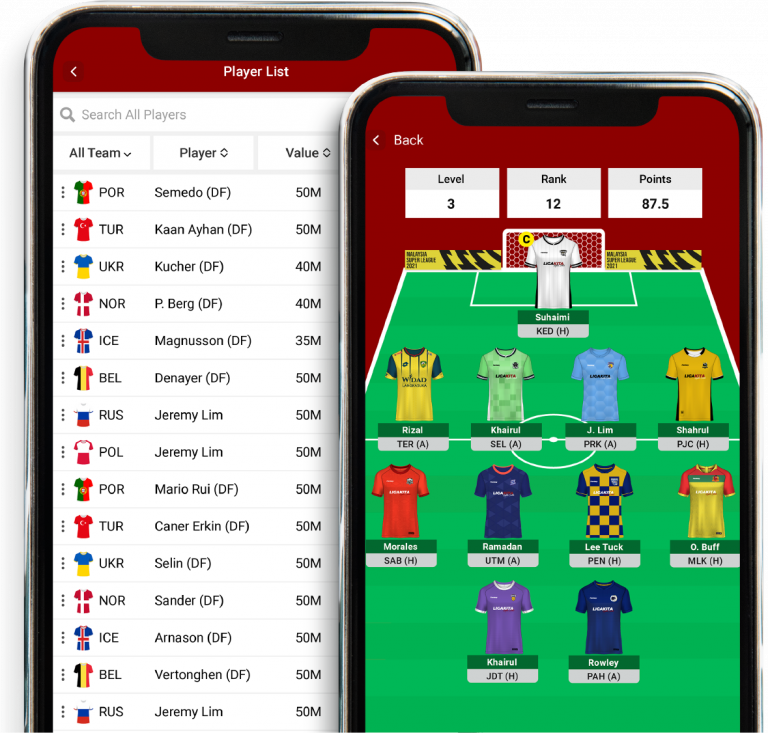 Select best 15 players for the upcoming match.

Invite or accept your friends for head to head challenge.

Improve your player ability with specific training method.

Join any league and stand a chance to bring back prizes.
MALAYSIA SUPER LEAGUE 2021
| Pos | Logo | Club | P | W | D | L | GD | PTS |
| --- | --- | --- | --- | --- | --- | --- | --- | --- |
| | | Team | P | W | D | L | GD | PTS |
| 1 | | JDT | 25 | 24 | 1 | 0 | 85 | 73 |
| 2 | | Selangor | 25 | 19 | 1 | 5 | 48 | 58 |
| 3 | | KDA FC | 25 | 17 | 2 | 6 | 25 | 53 |
| 4 | | Sabah | 25 | 16 | 3 | 6 | 29 | 51 |
| 5 | | Sri Pahang | 25 | 13 | 5 | 7 | 11 | 44 |
| 6 | | Terengganu | 24 | 10 | 7 | 7 | 9 | 37 |
| 7 | | KL CITY | 24 | 9 | 7 | 8 | 4 | 34 |
| 8 | | PDRM | 24 | 10 | 4 | 10 | -5 | 34 |
| 9 | | Penang | 25 | 6 | 6 | 13 | -13 | 24 |
| 10 | | Negeri Sembilan | 24 | 5 | 9 | 10 | -14 | 24 |
| 11 | | Perak FC | 25 | 6 | 4 | 15 | -27 | 22 |
| 12 | | Kelantan United | 25 | 3 | 5 | 17 | -40 | 14 |
| 13 | | Kuching FA | 24 | 1 | 6 | 17 | -29 | 9 |
| 14 | | Kelantan FC | 24 | 2 | 2 | 20 | -83 | 8 |
Generated by wpDataTables